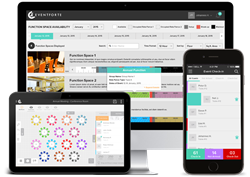 Los Angeles, CA (PRWEB)
June 29, 2015
There was a time in the hospitality industry when people thought data science only applied to analytics and reports. A Californian start up, EventForte Inc., aims to change that perception, by applying data science technologies to every lifecycle of the event management process.
Their premise is simple – how best to explore better ways to solve problems than to rely on the power of collective intelligence inherent in data science?
Given that event planning involves numerous manual processes, a lot of decisions are made based on personal experience and intuition. Data science techniques promise to provide deeper insights into the best practices of the industry to assist event planners in creating meaningful and engaging event experiences.
"Currently, many event planners manually work across four to seven disparate tools during the event planning lifecycle, which can be a frustrating experience," EventForte, Inc. President Ankit Gupta said. "This is prevalent because event technology hasn't yet developed to a point where a highly integrated solution is feasible. We believe that comprehensive data science integration will be the key to enabling the innovative all-in-one solutions event planners require at affordable price points."
The company is currently engaged in closed alpha-stage testing of data science implementations with partner hotels, including a revenue management and booking engine solution.
The EventForte team continues to put their beliefs to the test through the release of their cloud-based event management app early July, which promises to integrate key planner tools such as event diagramming, seating, and guest management. This app will be coming soon to all major app stores and web platforms.
Find out more about EventForte Inc. and their product offerings at http://www.eventforte.com.
ABOUT EVENTFORTE, INC.
EventForte, Inc. offers a cloud-based event management platform with integrated business intelligence tools, with a mission to revolutionize the event management industry through integration of modern big data and data science methods.
The company has offices in San Jose, CA and Los Angeles, CA.